Into the Nanten
---
The Record of my Exile
---
Seasons 1 & 2
Written by Jay Swanson, Into the Nanten was the world's first real-time fantasy blog - a journal updated daily, kept by a man in his world's most hostile jungle in search of someone he hated. It ran two full seasons, and came to an ignominious close with the failure of its second Kickstarter campaign in 2016.
It has since been removed from publication, awaiting a renewal and rebirth.
---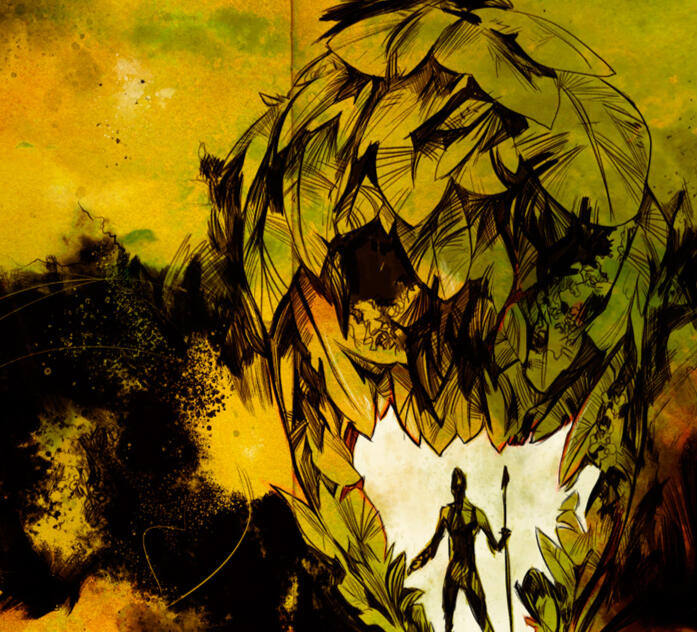 Illustrations by Nimit Malavia
The protagonist's journal is littered with beautiful illustrations and sketches highlighting moments along his journey.
---
Voiced by
Dennis Kleinman
Into the Nanten was brought to vibrant audio life through the voice and talent of Dennis Kleinman.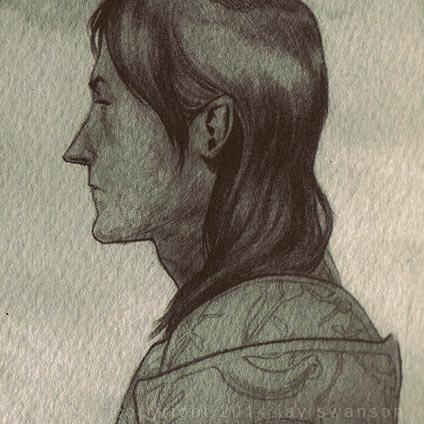 ---
Created by
Jay Swanson
Into the Nanten was originally a writing exercise, a fun way to try and build an audience around an ongoing fantasy story.
It was a lot of fun, and I hope we can return to it in the not-too-distant future.
---
Follow @mindofjayswanson to browse more art
---
INto the Nanten
A Brief Recap
The Nanten is a jungle so hostile that to enter it willingly is considered suicide. This is the journal of Marceles na Tetrarch, a warrior currently exiled to the Nanten for murder. He goes in search of a man that he hates, who was exiled there 20 years ago: Brin Salisir.

It was rumored that Salisir went to discover a cult risen from the darkest dredges of humanity. What Marceles didn't know was if the rumors were true.

Into the Nanten was updated in real time (EST) from 9/9/14 – 3/27/16 – when he finished an entry or illustration it appeared here in our world, on this blog. He wrote almost every evening.
---
Follow Jay elsewhere for any hope of updates ;)
---
© 2014-2022 Jay Swanson - All rights reserved.
It was a lot of fun at the time, but don't take my word for it.
Here's what people said about Into the Nanten back in the day.
---
---
---
"I'm not sure which of Into the Nanten's accomplishments is more impressive,"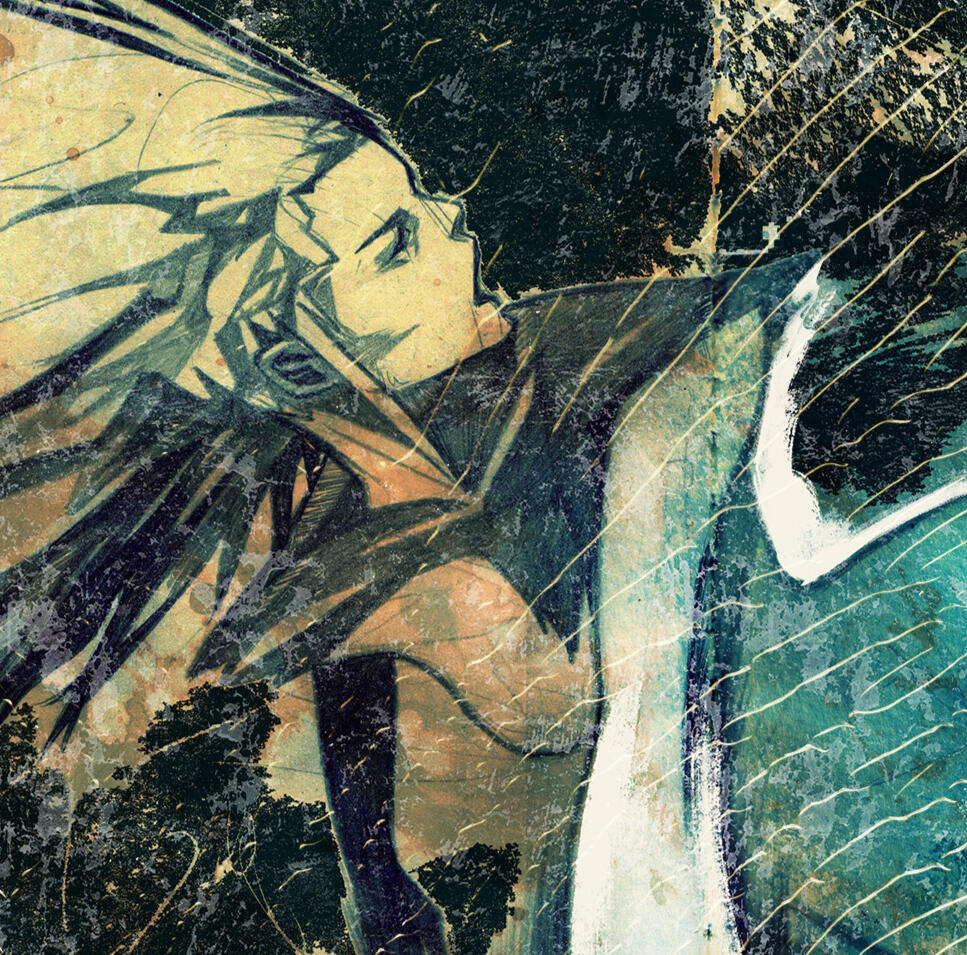 "That he produced the epic jungle adventure I had hoped The River would be, or that he kept me engaged enough to read an entire book online."
Tim Ward
Producer of the award winning Adventures in Sci-Fi Publishing
---
"Jay Swanson is a visionary"
"who has gathered a remarkable team of creatives to help him manifest that vision."
Dave Robison
Creator/Producer, Rountable Podcast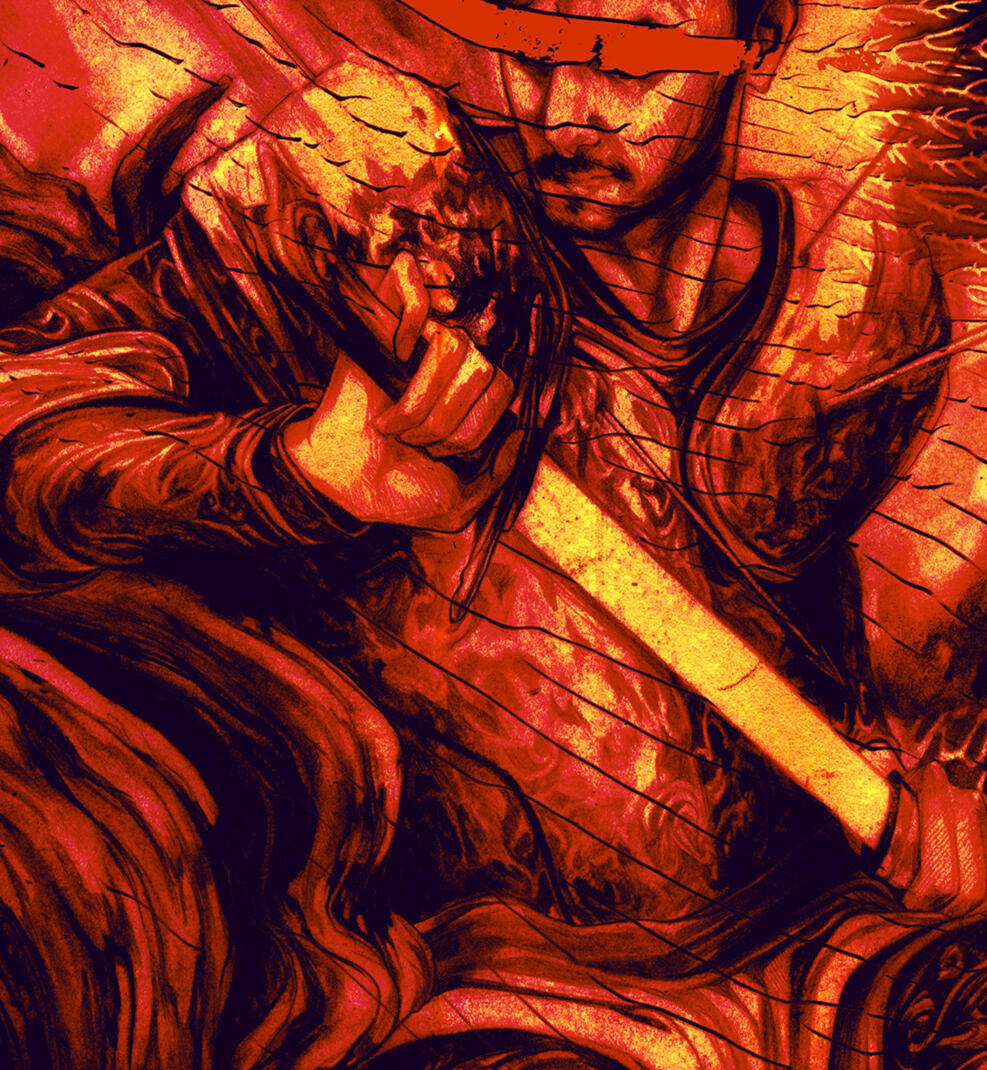 ---
Wall of Gratitude
-
Kickstarter Backers:
Companion
Matt Rogers (9)
Jim Hardison (57)
Jessica Co (58)
Hydron
Brian Baugh (22)
Barry Geraghty (62)
Joe Tromsness (76)
Chief of the Kora Kora
Rob Culp (1)
Joel Gregorio (39)
Rod Sullivan (11)
Caleb Stanton (71)
Michael & Yesenia Swecker (25)
Manuel Beltran (89)
Bantish Special
Wayne Fang (3)
Jack Shao (34)
Michael Green (46)
Kenya Dannielle Lutts (64)
Jeremy Atkins (75)
Bruce Powell (90)
Brandon Metcalf (106)
Zachary Oldenkamp (12)
Nick Murto (36)
Jacob Thompson (47)
Ethan Fink (70)
Enrique Arévalo Aristegui (78)
Nolan Stamm (92)
Andrew Rogers (19)
Lisa M DeMarco (37)
Benjamin Tillmann (48)
Stephanie Siemiller (72)
Kieran Cressy (83)
Kristi Hart (87)
Melissa Stoddard (33)
Bill Kraut (44)
Leeland Artra (49)
Jonathan Stanton (73)
Kay Walker (84)
Miles Tsang (103)
Mentalist
Dan McMaster (13)
Erik Rammelsberg (30)
Joseph Longworth (68)
Imperial
Branden Harvey (4)
Ness Lee (88)
Mark Shrime (14)
Jeremy Collinsworth (91)
Tammia (80)
Victor Chan (96)
Erica Williams (81)
Kalie Stanton (102)
Sketchbook
James Provost (15)
Becky Hanna (24)
Kyle Siemens (35)
Lewis M Cutter III (52)
John Phua (79)
Beth Murphy (18)
Jeff Beltran (27)
Mathew Spence (38)
Robin Pack (59)
Charlotte Payne (82)
Zach Sims (20)
Melissa Chung (28)
Songgu Kwon (41)
Kelsey Shelton (67)
Sarah McArthur (86)
Brandy Butler (21)
Martin-Andre Young (29)
Jen Hodge (42)
Nimit Malavia (77)
Brian Anderson (105)
Bromnom
Hope Nicholson (17)
Eric Alan Solo (50)
Sara Macanovic (69)
Ian Chung (98)
Jeremiah Reinmiller (110)
Chad Covino (26)
Andreas Gustafsson (54)
Kerri Mandelker (74)
Danielle Doornink (104)
Adam Fried-Gintis (43)
Cato Vandrare (55)
Nicholas Kilburg (93)
Vicki Hsu (108)
SA Anders (45)
Mark Teppo (63)
Arne Radtke (97)
Donald Ferris (109)
Bangara
Ethan Schwebel (23)
Mark Sroczynski (65)
Aidan Parker (111)
Seth Gossler (32)
Dianne Simmons (66)
David Horne (40)
Jacob Bouvet (94)
Nathan Dowd (60)
Ryne Tate (107)
Firesnake
Kaarin Swanson (2)
Brand Adams (56)
Sasha Jones (99)
Jennifer Sanchez (100)
Honorably Generous
Maggie Schrenk (5)
Brigitte D Linz (8)
Cami Jane Bradley (31)
Andrew Dedman (85)
Alex Petrovic (6)
Nils Swanson (10)
Dwight Fidler (51)
Sean Fulton (95)
Megan Spence (7)
Nicole Rodos (16)
Caroline Cassino (61)
Ryan Young (101)